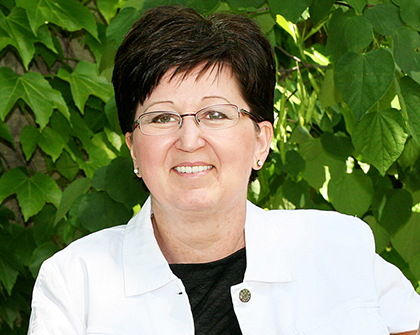 Linda Miller is Western's Vice-Provost (Graduate and Postdoctoral Studies), presently serving a second five-year term, commencing July 1, 2014, and has since been re-appointed for a three-year term beginning July 1, 2019, through June 30, 2022.
Linda completed her undergraduate studies at the University of Windsor. She attended graduate school at Western, receiving her MA in Psychology (1989), followed by her PhD (1994) in the area of Psychological Measurement.
In 1994, she was appointed to the Department of Communication Sciences and Disorders at Western, and subsequently moved to Westerns' School of Occupational Therapy.  As a member of the School of Occupational Therapy, Dr. Miller held a number of administrative roles, including Graduate Chair for the School of Occupational Therapy and Co-Chair of the Doctoral Program in Rehabilitation Sciences. In 2003, she was appointed the Faculty of Health Sciences' Associate Dean for Research and Graduate Programs.  She served as Associate Dean for five years before assuming the role of Vice-Provost—Graduate and Postdoctoral Studies in 2008.