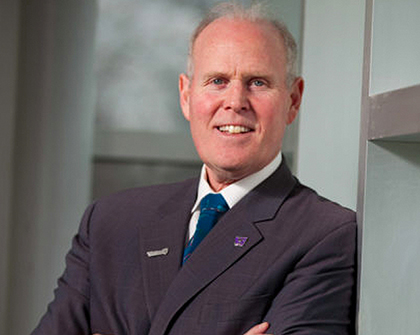 Jim Weese was appointed Acting Vice-Provost & Associate Vice-President (International), for a one-year term, effective July 1, 2019.
Jim is a Professor of Leadership and the former Dean of the Faculty of Health Sciences (2004-2015) at Western University. He has also served as the Special Advisor to the Provost (2017) and as the Acting Vice-Provost and Associate Vice President (International) at Western (2017-18). He was the Dean of the Faculty of Human Kinetics (1999-2004) at the University of Windsor prior to moving to Western in 2004.     
He teaches, consults, and conducts research, and delivers speeches on the topic of leadership. His "Five C" Concept of Leadership serves as the foundation to his team approach to leadership. He has also served as a leadership consultant with both non-profit organizations as well as multinational companies and delivers academic leadership workshops through Academic Impressions, Inc. He has served in a number of senior leadership positions during his career including serving as the President of the North American Society for Sport Management and President of the National Deans Councils for both Kinesiology (CCUPEKA) and Health Sciences Deans (CAHSD).
He has earned a number of academic and leadership awards throughout his career including the top research and leadership awards from his profession, the Queen's Jubilee Medal by the Government of Canada in 2002 for his academic leadership and ten years later, the Queen's Diamond Jubilee Medal in recognition for his leadership and advocacy for exercise and physical activity. The North American Society for Sport Management named him a Research Fellow (Inaugural group), and awarded him both the Earle F. Zeigler and the Garth Paton Awards for his distinguished contributions and leadership. In 2010, Weese worked with the Men's and Women's Olympic Hockey Teams at the Winter Olympic Games. In 2014, his alma mater, the University of Windsor, inducted him into its Sports Hall of Fame.